Frequently Asked Questions about KeyProwler
Internet and PC Monitoring Software

This page covers some of the most common questions we receive about KeyProwler. If your question isn't answered here, please feel free to contact us!
To help make finding your answer easier, we've divided our FAQ up into 3 sections. Click on any question to be taken immediately to the answer. Click the "return to top" link to go back to the top of the page.
Getting Started
Using the Program
Purchase/Upgrade Questions
Getting Started - Answers
Will KeyProwler Work on my Computer?
KeyProwler works on all versions of Windows, including the latest Windows 10.
How does KeyProwler work?
KeyProwler works behind-the-scenes to effortlessly monitor activity on your PC and internet connection by collecting keystrokes, screenshots and other details about websites visited and chat logs and emails sent, so that you can discreetly see what's happening on your computer while you're away.
Why should I use KeyProwler?
Unlike other family or employee keyloggers, KeyProwler is entirely invisible from firewalls and anti-virus software. With just a single click, you can run KeyProwler privately and securely without running the risk that it will be discovered and uninstalled. In addition, KeyProwler puts you in complete control of your PC monitoring by letting you choose when and how to receive the information that's logged.
You can also receive color-coded reports to show you at-a-glance which applications were opened, which websites were accessed, what was typed - and when. Specify a list of "trigger words" and KeyProwler will immediately take a screenshot and highlight the word(s) you've chosen so you can know when they were used, where they were used and who wrote them.
What can I do with KeyProwler?
KeyProwler lets you instantly track, view and receive detailed logs, computer screenshots and access details from any computer you wish to monitor - from the family PC to the entire employee network. Find out what sites your children are visiting, who your spouse or partner is talking to and what your employees are doing when you're away. KeyProwler is the ultimate stealth computer surveillance software.
You can start logging and recording everything with KeyProwler in just 3 easy steps: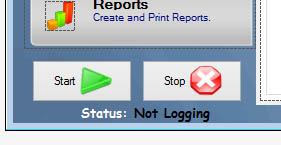 Launch KeyProwler and choose a password.
Configure your screenshot, email, usb export, and other settings. If the Stealth Mode button is checked, KeyProwler will be hidden from the system tray and will leave no indication that KeyProwler is running.
Click the Start button to enable monitoring. To access KeyProwler again simply hold down CTRL+ALT+SHIFT+K and then enter the password you chose.
Can I start logging when Windows starts?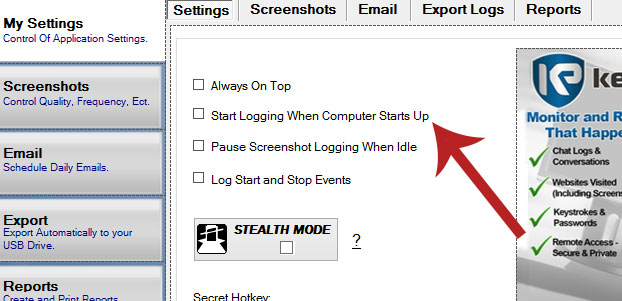 Absolutely! KeyProwler always starts with windows, but it does not start logging automatically by default. In the Settings tab on the main screen of KeyProwler, you'll see a checkbox to enable logging when Windows starts. Simply click that box and logging will be completely automated.
Stealth mode enables KeyProwler to remain completely invisible from the user, as well as third-party firewall software like Norton and McAfee. You can use Stealth Mode to keep KeyProwler hidden from view, or click a box to show KeyProwler in the taskbar and let your family or employees know that their activities are being monitored.
How do I uninstall KeyProwler?
You can uninstall KeyProwler as easily as you uninstalled it. Simply click the Uninstall button on the main KeyProwler screen, or you may also navigate to the location where you installed KeyProwler and run the unins000.exe file.
Using the Program - Answers
Can I monitor my kids' computer accounts and see what they type and what sites they visit?
KeyProwler was primarily designed with your childrens' safety in mind. The Applications Started tab in KeyProwler's reports will give you an idea of where your kids are going on the web and also what applications they are using. That coupled with screenshots and a log of keys pressed and you know exactly what they are doing online.
Can both sides of a chat conversation be monitored - like on Windows Messenger, AOL Messenger or MySpace Chat?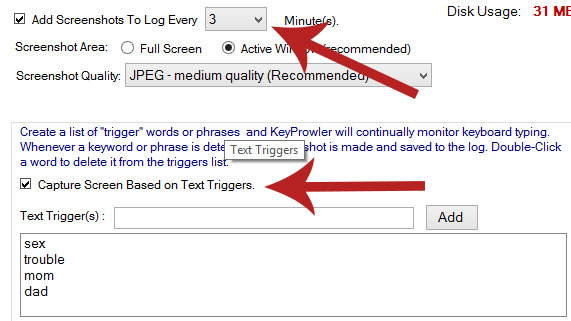 With KeyProwler's advanced screenshot capturing technology, you can view both sides of a chat conversation by setting KeyProwler's screenshot capturing timeframe to 1 minute.
My KeyProwler icon accidentally got deleted. How can I bring the software back up?
Just press and hold Ctrl + Alt + Shift + K on your keyboard to bring KeyProwler back up. Advanced computer users can customize this hotkey combination to suit their needs.
Other computer monitoring software eats up a lot of my computer's processing power and memory and makes it run noticeably slower. How much of my system resources does KeyProwler use?
KeyProwler is very memory-light and uses few system resources - so you won't notice the sluggishness that you might see with other internet monitoring software.
Do I need to have access to the computer KeyProwler is running on in order to view the reports?
No. KeyProwler is able to email you the reports at a timeframe you specify. You will, however need to access that computer to view the screenshots KeyProwler has taken, as screenshots are too large to send through email.
Purchase/Upgrade - Answers
I just upgraded to the PRO version of KeyProwler, but didn't get to the download page. How do I download the software?
You should receive an order email containing your registration key shortly after ordering. If you do not receive it within 20 minutes, please hop in our Live Chat and we will deliver your registration info personally!
What are the limitations of the free version?
The free version of KeyProwler does not offer Screenshot Logging, daily log emails, or Stealth Mode.
I received an email from the software, but I didn't see any screenshots included. Where are they?
Because of limitations in most email providers email attachment size and storage capability we cannot currently include screenshots with your daily log email. We are currently working on a compression tool to keep the file size of the screenshots down, without damaging their clarity - which will let you receive them via email. We expect this to be avialable in late November.
Can I buy and upgrade to KeyProwler PRO if I'm in a different country?
Certainly! International orders are handled via our payment processor PayPal (which allows you to use MasterCard, Visa, or even your bank account!) and you can place your order by clicking here.
Once I buy the PRO version of KeyProwler, can I still see the logs from when I used the free version?
Yes, the logs and screenshots you've collected from the free version will still be available when you upgrade to the PRO version.
How do I get someone's MySpace, Hotmail or other password?
For legal reasons, we can't obviously tell you how to get someone's password. However, using KeyProwler, you can easily see any keystrokes that are typed and at which site they were typed on - even in private browsing modes.
Can I view and log activity on more than one computer?
Each purchase of KeyProwler pro will allow you to monitor one computer. Once you activate the software on that computer, you may not use it on a different one. We offer discounts for bulk orders, so contact us and let us know how many software licenses you would like to purchase and we will give you a great discount for multiple licenses.